Metal Roof Restoration can take many different forms. Like most solutions in commercial roofing, there are many different methods with varying pros and cons. These pros and cons have to do with price, effectiveness, and the condition of the existing metal roof. We'll take you through five popular roof restoration methods and the benefits and pitfalls of each.
Flute-Fill and Membrane Roof Over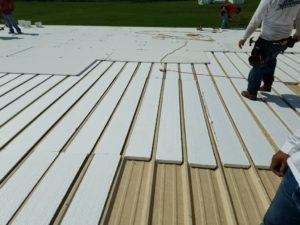 Most metal roofs come in two varieties: exposed fastener or R-Panel and standing seam. Each has its own unique profile. Carlisle manufacturers different panels of insulation called flute-fill, which fill in the valleys of the roof profile and allow a smooth membrane surface over the roof.
Pros:
Removes complication of cutting insulation to fit different roof profiles, cutting down on labor
Increases energy efficiency of roof
Cons:
Shift from metal roofing to membrane roofing (which is not what the original builder intended)
More expensive than other metal roof restoration methods
Hat Channel
The Hat Channel method is not a product, but an approach. Hat Channels are hat-shaped steel beams that can be screwed into purlins that support the existing metal roof through the roof itself. So you can get the idea here is a picture of a hat channel: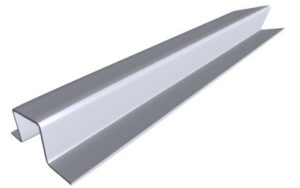 After the hat channels are installed over the purlins and the existing metal roof, any type of metal roof can be installed over the hat channels, including R-panel and standing seam. Drip edges are installed over the rakes and eaves so that the existing roof is hidden under the new roof.
Pros:
Least expensive metal roof restoration method (no fees for dumpsters or labor charges for removal)
Allows for matching exact same building material as original construction
Cons:
Not a product so does not carry a manufacturer warranty
No brand pushing the product so awareness is low, but this is only a con for contractors
Retro-R Panel
This method is similar to the Hat Channel method in that it involves simply installing a new metal roof over an existing metal roof, but requires fitting an existing panel to another panel with no space between. Therefore the Retro-R panel needs to closely fit the form of the panel it is being attached to.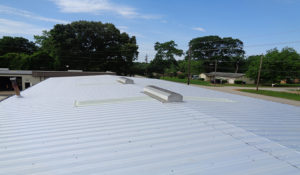 Pros:
Less expensive metal roof restoration method (no fees for dumpsters or labor charges for removal)
Undercoating to prevent rust from transferring from old roof to new
Cons:
Silicone Coatings
Coatings are often appealing to customers because they seem like they should be an easy, low-cost solution to an aging roof. More often than not, that's not the case. There are plenty of companies that promote coatings, like GAF, but even they advise that coatings work better for metal roofs that are not currently leaking, and are in relatively good shape. So coatings are more preventative than restorative by definition.
Pros:
Tons of options and different types of products for roofs
Easily applied with the right tools, no shipping and hoisting heavy roofing materials
Cons:
Warranties are 12-15 years as opposed to 20-30
Not effective at stopping leaks or sealing heavily oxidized metal
Roof-Hugger
This product does essentially what a hat-channel can do: supply a sturdy metal framework above an existing metal roof onto which a new metal roof can be installed. Roof-hugger is the hat channel part in a full roofing system, so it would be necessary to purchase the panels and drip edges separately.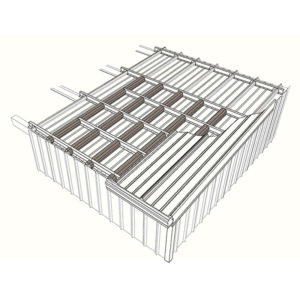 Pros:
Fits any type of metal roof
Comes with manufacturer warranty
Cons:
More expensive than hat channel
Tl;dr there are multiple approaches to restoring your metal roof, and choosing the right one requires careful consideration of the state of your roof, its size, your budget, and the need of getting a new roof up in a certain timeframe.
If you have a metal roof that is getting on in years or is already leaking, please fill out the form below to have a professional go over your options and find the best solution for you.